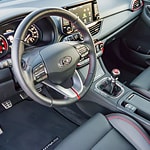 If you're in the market for a compact sedan and you haven't yet discovered the Hyundai Elantra, it's time for that to change. The popular Elantra is available for your inspection at Hyundai of Jefferson City today, and our team is excited to tell you all about its many performance features and amenities when you stop in for a test drive.
The Elantra is ready to tackle any road and comes with your choice of powertrain options. You can pick from the highly efficient 1.4-liter four-cylinder turbo engine or one of the slightly more powerful models. Transmission styles vary based upon the trim package selected as well as personal tastes.
You're certain to be pleased by the Hyundai Elantra's well-engineered steering set-up that makes tackling even challenging roads a breeze. The suspension is also designed to make traveling over rough roadways smooth and trouble-free.