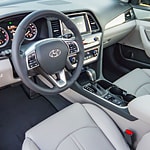 If you are looking for a midsize car, then you should consider giving the Hyundai Sonata a test drive. It has a variety of features that are designed to help you have a comfortable ride. This vehicle has efficient engine power. It has a 4-cylinder and 2.0 L engine. It will deliver 15 percent more torque without using any extra fuel.
You will enjoy a smooth ride. You won't have to worry about feeling any vibration as you drive. Quick steering is another one of the performance features that will help you get more out of your ride.
The D-shaped steering wheel has a powering steering system. The system is responsive, communicative, and empowering. This will make it a lot easier for you to steer and maneuver your car. It will also be a lot easier for you to turn. If you want to give the vehicle a test drive, then you can come visit us here at Hyundai of Jefferson City.